Will Solvit

Names
Master of Time

Time boy

Age
11
Special Skill
time travelling
Gender
male
Family
Henry (Dad)

Eddy (Mom)

Monty (Grandpa)

-
William "Will" Solvit is the main protagonist of the series.
Appearance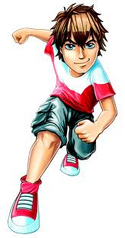 Will is Fair with Dark brown Hair. He is always seen wearing a red and white t-shirt an greyish blue shorts.He wears red and white sneakers also.
See Also
Ad blocker interference detected!
Wikia is a free-to-use site that makes money from advertising. We have a modified experience for viewers using ad blockers

Wikia is not accessible if you've made further modifications. Remove the custom ad blocker rule(s) and the page will load as expected.